Welcome to ECO-freight !

2010 - Tres Homres crossing the Atlantic

---
COP15 failed - see a solution for earth friendly freight with sails!
Denmark, 21th December 2009
No engine - full power! This new ship in Copenhagen is the future for environmentally sustainable freight - in front of the Royal Castle
.
Two boats from Greenpeace followed the newly built schooner Tres Hombres to berth at Amaliehaven. The ship arrived wednesday at sunset, and immediately attracted curious spectators. The cargo space was full of organic goods, which here for the first time also was transported in an environmentally friendly manner.
Everyone was welcome to visit this schooner, built over a
beautiful old hull
, and thus with a classic appearance. It is the maiden voyage for this 120 foot cargo ship with no engine, only driven by her many sails. On the voyage, she reached a speed of more than 11 knots, and was nearly able to outrun a passing oil tanker.
A load of organic products
She can carry a cargo load of 45 tonnes, which was unloaded the conventional way with pulleys and cargo boom by the ship's colorful captain Arjen van der Veen, and the crew. He and his partners Andreas Lackner and Jorn Langelaan are behind this
Dutch initiative
, which is now realized with this ship, aptly named, "Tres Hombres".
Pioneers on public shares
A pioneering project wrapped up in the exciting new story about the revival of sails for shipping. And it is all based on voluntary contributions and
public shares
, but will be continued in general market conditions. This project is auspiciously inaugurated in Denmark during the Climate Summit, just when the world's attention is turned towards clean alternative solutions.
Next step is a container ship
Although this fine schooner now is sailing regularly on long voyages with cargo, this is only a beginning. The next step is to build a much larger sail powered cargo ship, a
3000 ton EcoLiner
equipped for container traffic and fully competitive with the oil guzzling competitors.
The cargo ship "Tres Hombres" is planned to continue for Stavanger, Norway and then down to Portugal.
For further information, appointments for visits and interviews,
please contact the address below - until December 23th
Phone: +45 5011 3865
Info@SailTransport.com

Eco-Freight is an ecological broker agency.
We want you to share our vision of the future, and join us in developing a modern concept of green transport!
Our concept is based on the great potential of sailing ship transport. As a good answer to the urgent need of sustainability in the highly polluting transport- sector.
Instead of supporting high-speed non-sustainable air-transport, you could help us fulfill our intention of re-establishing sailing ships, as a natural alternative to an anti-ecological culture.
Travel on a sailing-vessels give certain opportunities.
On long distances like crossing the atlantic, the time could be spent on learning languages, recovering from pressure conected to modern lifestyle, education/courses, learning seamanship, socialization and physical challenge.
In the Atlantic region, there is a greater wind potential than for instance. the Indian ocean. This makes the Atlantic region more, not less attractive for sailing ship transportation!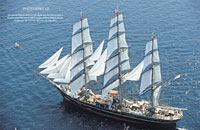 The concept has two pillars:
-One pillar is utilizing the potential of the already existing fleet of tall-ships. (the largest ones) In the ecological concept, organic-food, esthetics and of course ethical considerations are included. No diesel, easy going atmosphere. Low cost, but high quality, as much as possible.

Some tall-ships have a slow period, or no missions at all, during winter- season. But the winter season could be great for transatlantic crossings. What we hope is creating a regular route between natural harbours and the traditionall sailing cities, like Lisbon, Kingston, Havana, Miami, New York, London and so on.

We want to offer regular trips between certain cities. Not «pleasure-trips» only for the weekend! But hopefully «enjoyment living» on a traveling distance.

Our intention is to create a new way of traveling. Different from the airplane as well as different the railroad.
A disciplined travel where you either buy a regular ticket as a passenger, or buy a «work -your-way» ticket. Naturally this basic concept has to undergo evaluation over time, but the essence we hope is part of our sustainable future.

What about the unstable climatic situation these days, you might ask ???
Our answer is that there are already thousands of sailboats out there, and a tall-ship with modern navigation and communication systems, will offer you a much greater experience of calm and safety, than you get thirty thousand feet above the sea level.

So mainly what we want to create, is a new era for sailing ships. To prevent the greenhouse-syndrom, and unstable clime, instead of helping it getting more extreme, by burning oil!

The second pillar is building ninety foot specially designed steelbodied sail/solar-ships!
The unique design is developed by Pat. You can have a closer look at the greenheartproject home page

While Patrick wants to concentrate on fair trade, special training program, and a route all the way around the earth, our intention is slightly different. First we hope to be able to raise enough capital, to start building these very interesting ships. We then we hope to be able to transport environmentally friendly products like organically grown soyabeans, sun- flower seeds, vegetable oils, coffee and dried- fruits, as well as textiles of organic hemp, silk or cotton, solar panels, norwegian dried fish and more.

Anyway, a good ecological principle is to buy/consume locally produced goods and services, wherever you are! But we still believe we have high ethics» in our concepts by supporting small producers and ecologically sound products
Transportation is not a goal in itself, but trade between small producers, can function as a cultural contact-medium, (+ strengthen this sector) and help small producers to grow stronger and survive!
So that is one of the things we want to accomplish; to be an active organization for building up contact between small producers.
These specially designed solar /sail-ships, can attain access to producers and places, where bridges or shallow water would stop other vessels
They are cheap to produce and maintain.
They use no fuel and have unlimited range!
They enjoy superb access because of shallow draught and folding masts.
They have autonomous cargo-handling capacity!
Feel free to contact us, give comments in our guestbook, or inform us about paralell projects!


Tom Paamand, Denmark
Jan Boier Vindheim, Norway
Trond Rasmussen, 8120 Nygårdsjøen, Norway
E-post: trond@eco-freight.com
tel: +47 75 75 75 77 - mobil +47 98 09 35 64 (just for sms)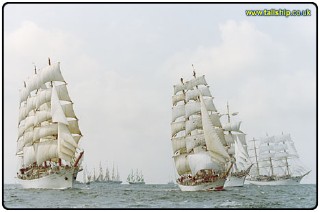 ---